The MumFest concert is being rescheduled for the spring of 2017! Be sure to check back in a few months for details!
MumFest's 2016 Kickoff Concert originally scheduled Friday, October 7 was cancelled due to Hurricane Matthew and will be rescheduled for the spring of 2017. The concert features a country music line-up that will include headliner Eric Paslay, as well as up and coming Jordan Davis and Emily Minor.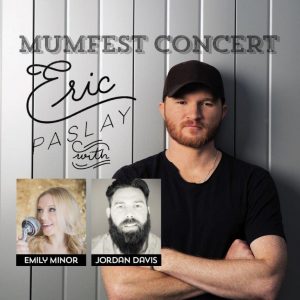 Paslay has written 6 number 1country songs for groups like Rascal Flatts, Lady Antebellum and Eli Young Band. Two years ago he moved from back stage to center stage with his own number 1hit "Friday Nights" off of his critically acclaimed debut album "Eric Paslay". In July he released "Angels in this Town" which is expected to rise through the charts. According to Buddy Bengel, Chair of the MumFest Kickoff Concert, "Paslay is one of the best performers and songwriters in the industry. This will be the 'can't miss' concert event of the year."
Since moving to Nashville 4 years ago, Jordan Davis has toured non-stop with artists like Chase Rice, David Nail, and The Cadillac Three. He recently signed with Universal and is currently recording his debut album. Jordan expects to release his first single shortly.
The final addition to the line-up is eastern NC's favorite female country vocalist, Emily Minor. A Top 50 finalist on American Idol in 2007, Minor is a sought after performer on the country music circuit.
The kickoff concert will be held on the South Lawn of Tryon Palace. Details to follow.
The MumFest Kickoff Concert is Sponsored by AlphaGraphics, Bojangles' Famous Chicken 'n Biscuits, Bud Light, Viamark Advertising, and WRNS.